Agri Business Division
---
Go Rural India Pvt. Limited is one of South India's major integrated agri business marketing enterprises with profound presence across every link of the agri value chain. The leadership position of Go Rural India Agri Business is cornerstoned in its strong and sustaining partnerships with farming communities across the South India, which has helped to change the face of  the agricultural sector in rural villages.
Go Rural India's Agri Business is among the leading domestic players of numerous agricultural commodities such as food grains, spices, fruits and vegtables. It works with farmers and farming communities  to improve the productivity and quality of various crops and sources the finest of Grains, Spices, tropical fruits and vegtables across multiple geographies in South India. Backed by 13 years of experience and expertise, the business deploys customised infrastructure and technology in Sales and Distribution, procurement and warehousing/ cold storaging to supply these products to target customers and institutions in South India. It has created a niche market for its products. These products are well acclaimed for their naturality and higienity.
Go Rural India's Agri Business' distinctive soundness is the extensive backward and forward integration it has established with the farmers. Go Rural India consistently believes in the development of farmers and farming communities and congnizant of the fact that they play a vital role in the development of its business. We impart training and development programmes to farming communities in areas such Soil testing, best practices in cultivation from sowing till harvesting,  suggesting suitable crops depending upon the weather conditions, soil types and water availability. We partner with numerous fertiliser, pesticide, farm equipment companies in order to provide these products at best possible, competitive prices to farming communities. However, we are on the constant endeavour to encourage farmers to switch to organic manures. We also bring farmers and farm machnery suppliers on to the one platform by means of tarde shows, road shows, events etc. We negotiate with financial institutions on behalf of farmers for availing crop loans at competitive interest rates.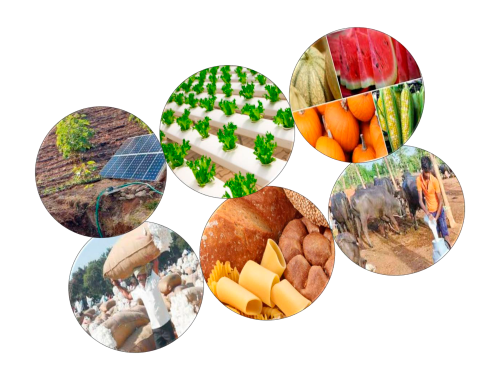 We have the state-of-the-art warehousing/cold storaging facilities across locations which help farmers to reduce the wastage. We do use natural ripening methods for tropical fruits such as mango which is our key strength. We have well established sales and distribution network and loyal clients for our produce. We enjoy tremendous synargies in our Agri Business with the help of our Advertising and Marketing arm. We aim to expand our footprint to other parts of India by increasing the gamut of products by 2020.
Our present portfolio inlcudes the following
Rice, Chilli, turmeric, Mangoes, oranges and wide variety of vegtables.