Communication Methodology
Our methodologies of communication are unsurpassable, we take your product communicate to your consumers directly. We are accustomed to beyond extraordinary communication techniques.
Folk Arts: Joy Delivered
---
India is a country of folk and dances, arts and fine lore. We at Go Rural India take this as a great advantage for the coverage of your products with those great people assets. Folk art is spontaneous, impacting and result oriented in every sense. Indeed, this tradition of rural India that reflects their life and struggles; they are very close and intertwined to these age old cultural instincts. We are specialized in various forms of magnificent art to communicate to people we arrange a wide array of media local fares, puppet shows, street theatre, folk songs, ballads, skits and storytelling about your products and services and position brands in the commercial hubs of rural India.
---
Games: A Fun Packed Branding Campaign
Games and entertainment are part of our life. They can't be separated from the main stream or the margin. Human beings always have proximity with games to make the body mind and soul healthy and robust in every way. GO Rural India organizes interactive games at the door steps of people to introduce the product and its major advantages. It's just a business with fun and care; where people never feel intimidated as it's their own surroundings.
This packaged fun and entertainment brings immense joy home laced with rural flavour that makes people feel at home. As they gather together, it becomes so easy to introduce the brand and that penetrate right into their heart to shift their minds towards it.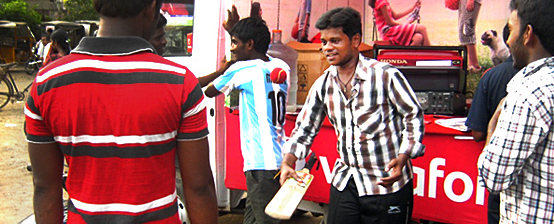 Our Recent Campaigns
---